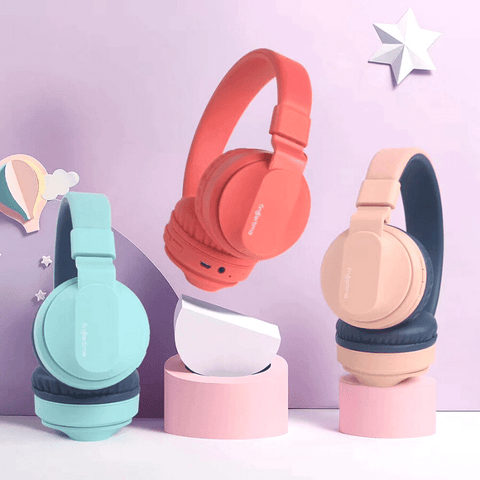 KALM™ Standalone Wireless Headphones
Specifications:
Supports Bluetooth, FM, TF Card Play & Aux-In
Bluetooth version 5.0
Battery capacity 500mAh
Charging time 2.5 hours
Package Includes:
1 x User Manual
1 x USB to Micro-USB Cable
1 x 3.5mm Audio Cable
If you have a child or student who struggles with distracting noise or sound-based overstimulation, KALM™ is a new, innovative tool to help!
These therapy headphones are different from most noise reduction ear muffs which only muffle the sound. Comes with a storage TF Storage Card, "acoustic shield" audio tracks can be uploaded to KALM™ without the use of mobile phones. Featuring 2 different modes, kid-friendly and normal mode allows the perfect volume safety for kids. 
These options make KALM™ perfect for both overstimulated children and for children prone to distraction!
The comfortable construction of the "muffs" ensures that users can wear the headphones for extended periods, making them great for use at home or in the classroom.
Retractable and foldable allowing you to use these headphones on the go!
We offer free shipping on all orders.
Enjoy a 30-day hassle-free return policy.
We provide parents with sensory solutions that work.
Made for children of different ages and all abilities.
We offer free shipping on all orders and a 30-day return policy.
All orders are shipped from our warehouse within 2 to 5 business days of you placing the order. Most items will arrive in about 2-3 weeks or 7-15 business days unless stated otherwise.

View our Shipping & Returns FAQ for more detail.
Route is a package protection solution that helps cover your order in the event it gets lost, stolen, or damaged while in transit. If your Route-protected order ends up lost, damaged, or stolen, Route's expert support team helps ensure that your order gets replaced or refunded as preferred. Claims will be reviewed for approval within 1-2 business days from filing. Need to file a claim?  File here
Washing & Care Instructions
All of our products are Machine & spot clean washable. We recommend:
Use cold water
Gently cycle
Air dry
Do not use any harsh chemicals (like bleach)
Mild liquid detergent
When possible wash on its own and avoid washing together with items that have Velcro, or Jean, and bottoms that could harm the fabric.  
All items come with a 30-day satisfaction guarantee
If item is defective, damaged, or if you received the wrong item, contact us immediately. We will check the issue and make it right.